Welcome to Jackson Park Watch!
JPW is a community initiative headed by Jackson Park fans and Hyde Park residents Brenda Nelms and Margaret Schmid that has four broad priorities:
Transparency in decision-making about the Park – no backroom deals
Meaningful community input on major changes to the Park – no top-down decisions
Preservation of the Park as a democratic public space – priority to local uses and local users, with maximum grass, trees, and open space
Development of one comprehensive plan for the entire Park  – forestall its division into unrelated segments
JPW is currently focusing on three issues that relate to these priorities:
ONE:  The proposed merger and "upgrade" of the existing Jackson Park and South Shore Golf Courses (see graphic below), developed behind closed doors and announced in December with few details. For more on this issue and what you can do, see here.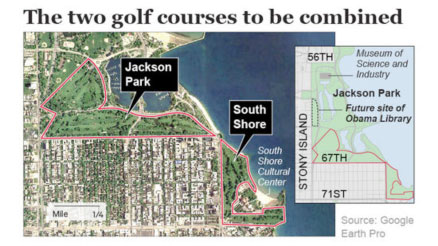 TWO: The unknown impact of the Obama Library on Jackson Park (see map to the right for the location). Despite early assurances of community engagement, the Obama Foundation has so far operated in secret and in isolation from other discussions about the Park. For more on this issue and what you can do, see here.

THREE:  The proposed visitors pavilion and music venue that has been promoted by the private group Project 120, also developed behind closed doors and with woefully little community input. For more on this issue and what you can do, see here.

JPW's concerns about the impact on Jackson Park of these proposed projects have been underscored by Preservation Chicago's inclusion of Jackson Park on its recently published annual list of the most endangered sites in Chicago.
Additionally, the need for one comprehensive plan for the entire park has been eloquently argued in a statement from Friends of the Parks executive director Juanita Irizarry.
JPW collects and shares information, encourages attendance at key public meetings, urges concerned individuals to contact public officials and media outlets, and facilitates citizen participation in multiple ways. Sign up to receive Jackson Park Watch Updates to get regular information and participate in JPW's work. Updates come out every two to three weeks, and often include ways to take timely action on the issues. Updates are sent via e-mail bcc to maintain privacy. E-mail jacksonparkwatch@gmail.com with the simple request "sign me up." Additional ways to take action can be found under Take Action.