GREETINGS!  LOOK FOR UPDATES TO THIS SITE IN THE NEAR FUTURE.  IN THE MEANTIME, CHECK THE LATEST JACKSON PARK WATCH UPDATE IN THE COLUMN TO THE RIGHT.
---
JPW is an Illinois nonprofit organization founded by Hyde Park residents and co-presidents Brenda Nelms and Margaret Schmid.  A virtual organization, it operates within a broad and diverse network of interested individuals and groups.  Over 500 individuals receive its periodic Updates, which are widely recirculated to unknown hundreds more.
---
News as of mid-May: Jackson Park Watch provides information for May 17th  Plan Commission Hearing
On May 10, Jackson Park Watch submitted its traffic study CDOT'S Transportation Plan for the Obama Presidential Center in Jackson Park: A Review and Alternative to Chicago Plan Commission members for their review prior to the May 17 Plan Commission meeting. Along with the traffic study, JPW Provided its analysis of CDOT 's application  under the Lake Michigan and Chicago Lakefront Protection Ordinance, arguing that it is flawed and should be rejected.  JPW included a cover memo to the Plan Commission members detailing missing information and unanswered public policy questions in the OPC applications, asking the Plan Commission to send those applications back for further information.  Further, JPW argued that approvals, if any, should be conditional pending approval through the federal review process now on-going.
These key piece of information can be accessed here:
---
JPW  principles:
Transparency in decision-making about the Park – no backroom deals
Meaningful community input on major changes to the Park – no top-down decisions
Preservation of the Park as a democratic public space – priority to local uses and local users, with maximum grass, trees, and open space
Development of one comprehensive plan for the entire Park  – forestall its division into unrelated segments
Sign up for JPW Updates!
Through periodic Updates, JPW collects and shares information, encourages attendance at key public meetings, urges concerned individuals to contact public officials and media outlets, and facilitates citizen participation in multiple ways.  To receive Updates, simply e-mail jacksonparkwatch@gmail.com with the request "sign me up." Jackson Park Watch Updates are emailed via blind carbon-copy (bcc) to maintain privacy.
Current JPW Priorities
ONE:  The proposed merger and "upgrade" of the existing Jackson Park and South Shore Golf Courses (see graphic below), developed behind closed doors and announced in December 2016 with few details. For more on this issue and what you can do, see here.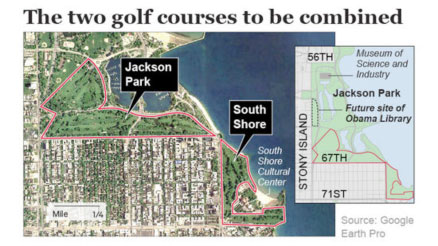 TWO: The unknown impact of the Obama Presidential Center (OPC) – formerly the Obama Library – on Jackson Park (see inserted map to the right for the location).  Primary concerns about this complex and ever-involving situation include:
Expansions beyond the original site selected for the OPC.
Problematic site plan and OPC tower design.
A raft of road closures and reconfigurations that the City proposes to accommodate the OPC-desired closure of Cornell Drive between 59th and 63rd streets.
For more on this issue and what you can do, see here.

THREE:  Related critical unanswered questions include:
The City's promise to replace 21 acres of lost parkland.
Detailed overall budgets for the proposed projects, and a breakdown of the proposed sources of funding for each, including the amount that Chicago taxpayers would be expected to provide.
The Park District's vision as long-term steward of this historic Olmsted-designed park.
Other websites of interest